2nd Symposium - Building Safer & Resilient Society against Mega Disaster -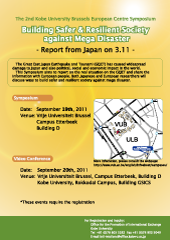 If you wish to attend the symposium, please fill in and send the registration form (Excel file).
For details of the symposium, please refer to the flyer.
---
Program
Part I: Report on the GEJET 10:00 - 12:00
Part II: Impact of the GEJET 13:00 - 15:00
Part III: Panel Discussion 15:30 - 17:40

Copyright © Kobe University. All Rights Reserved.