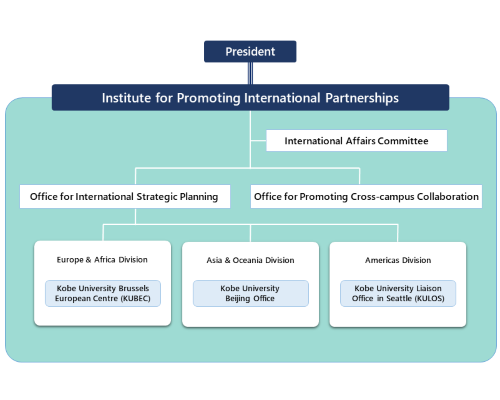 Kobe University fosters innovation in order to cultivate invaluable human resources who can resolve current and future societal issues and to create new knowledge and values; contributing towards our "digital-information-based" and "super-aging" society in the post-COVID-19 era.
In order to achieve our international aims for the 3rd mid-term goal period (Year 2016-2022), we have concentrated on implementing initiatives such as following:
- Hosting international symposiums/seminars to expand our offices abroad and strengthen collaborations with overseas universities,
- Doubling the number of internationally co-authored papers by promoting international joint research, and
- Increasing the number of accepted international students and the number of Kobe University students that are dispatched abroad.
In April 2022, we restructured our Institute for Promoting International Partnership to further develop international collaboration by establishing the following new Offices.
The 'Office for International Strategic Planning' will formulate Kobe University's international strategy and supervise our activities in each region, and the 'Office for Promoting Cross-campus Collaboration' will be in charge of strengthening the connectivity between each University department's international activities.
Through this re-organisation, we will strengthen the links between each department under our international strategy and conduct global public relations (PR) more effectively by optimising our overseas offices.
In addition, the 'Europe & Africa Division', the 'Asia & Oceania Division' and the 'Americas Division', established under the 'Office for International Strategic Planning', will promote our international exchange activities and strengthen our overseas network based upon our international strategy, cooperating with each other across regional borders.