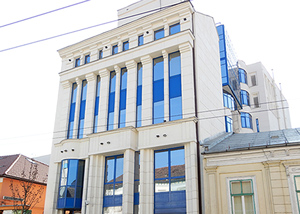 On May 17, 2018, Kobe University, with the cooperation of the Babes-Bolyai University, established an internatioanl centre in Romania and in Kobe. It is the seventh international base for Kobe University, following the Kobe University China Office established in Beijing, China, in 2008; the Kobe University Brussels European Centre (KUBEC) established in Brussels, Belgium, in 2010;the Kobe University Hanoi Liaison Base, Vietnam, in April 2015; Kobe University Liaison Office in Kraków in October 2015; Kobe University and Beijing Foreign Studies University International Collaborative Research Base in April 2016; and Honolulu Office of Kobe University in July 2016.
---
Main Activities
Kobe University and Babes-Bolyai University develop the following forms of cooperation:
1) Promote international joint research activities and joint publications
2) Plan and hold joint research symposia, forums and seminars
3) International activities for faculty and student exchange
4) Other activities for enhancing international cooperation upon which both parties agree
Facility
Address (Cluj-Napoca):Japanse Cultural Centre, Babes-Bolyai University
Calea Motilor nr.11, Cluj-Napoca,400000,Romania
Room Equipments:Office Desk・Chair/ Guide Book and Brochers of Kobe University
Address (Kobe):Institute for Promoting International Partnerships, Kobe University
1-1 Rokkodai-cho, Nada-ku, Kobe 657-8501, Japan
---
Inquiry
Address

Calea Motilor nr.11, Cluj-Napoca,400000,Romania

E-mail

intl-relations@office.kobe-u. ac.jp(International Strategy Group, Kobe University)
* To avoid spambots, we have inserted a space before "ac.jp". Please delete the space when you email us.

Link

Japanese Cultural Centre of Babeș-Bolyai University (Japanese Only)

Access

Copyright © Kobe University. All Rights Reserved.