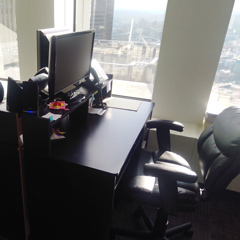 In April 2020, the Kobe University Liaison Office in Seattle (KULOS) was launched in the Americas with assistance from the Hyogo Prefectural Government and Hyogo International Association. We also launched the Kobe University Liaison Office in Perth (KULOP) on the same day.
 We have established the Seattle office in order to promote cooperation with institutions in the US mainland and to expand the activities of the Kobe University Honolulu Office, which was opened in 2016.
 We currently have 3 liaison offices in Europe and 5 in the Asia and Oceania regions. Kobe University aims to further promote and strengthen international cooperation through KULOS.
---
Director
YAMAMOTO Hideyuki (Professor, Graduate School of Humanities)
Main Activites
1) Organizing international workshops and symposia with universities and institutions in the Americas
2) Promoting international joint research activities with universities and institutions in the Americas
3) Providing our students with an access to space for preliminary meetings for internship in the Americas
4) Engaging in other activities to promote international exchange in the Americas
Meeting Room
Address: 1001, 4th Ave, Suite 4310, Seattle, WA 98154 (Safeco Plaza, on the 43rd floor)
c/o The Hyogo Business and Cultural Center
For inquiries, please contact the following e-mail address.
Email: intl-relations@office.kobe-u. ac.jp
---
Inquiry
Address

1001, 4th Ave, Suite 4310, Seattle, WA 98154 (Safeco Plaza, on the 43rd floor)
c/o The Hyogo Business and Cultural Center

Link

E-mail

intl-relations@office.kobe-u. ac.jp(International Strategy Group, Kobe University)
* To avoid spambots, we have inserted a space before "ac.jp". Please delete the space when you email us.

Access

MAP (Google maps)