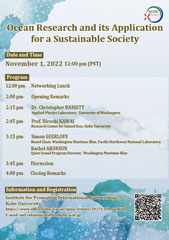 Click on the image to view
the event poster
The 2nd KULOS Symposium 'Ocean Research and its Application for a Sustainable Society' will be held in Seattle on Tuesday, November 1, 2022 (PST).
Kobe University established KULOS (Kobe University Liaison Office in Seattle) in April 2020. Located in the Hyogo Business and Cultural Center in downtown Seattle, it is our first liaison office on the US mainland. KULOS will strive to contribute towards the globalization of Kobe University's research and education by providing Kobe University faculty members and scholars with a venue for international symposia and workshops covering a diverse range of academic fields, in addition to offering global educational activities for students at various levels.
Organized in cooperation with the University of Washington and the Seattle-based company Maritime Blue, this second symposium will feature various presentations and discussions about marine research.
We will also hold a networking lunch before the symposium. This year marks the 65th anniversary of the sister-city relationship between Kobe city and Seattle. In conjunction with this anniversary, the networking lunch will bring together the Consul General of Japan in Seattle and the mayor of Kobe city, as well as a diverse range of people from Japanese companies, American companies, universities in the Seattle area, and U.S.-based alumni of Kobe University. This event aims to build a network that will encourage future research and academic-industrial partnerships. If you wish, you may attend only the symposium or only the networking lunch.
Registration: closed
CV&Abstract: here
---
General Information

Date and time:

Tuesday 1st November 2022
12:00pm~1:30pm(PST) Networking Lunch (The reception will open at 11:30am.)
・For the first 60 applicants
・Buffet style
Greeting from our honored guests:Consul General INAGAKI Hisao, and Mayor HISAMOTO Kizo of Kobe city.
2:00pm~4:00pm(PST) The 2nd KULOS Symposium 'Ocean Research and its Application for a Sustainable Society'
・For the first 30 applicants
〈Program〉
Opening remarks
Prof. Tamotsu NAKAMURA:Executive Vice President, Kobe University
Prof. Mari OSTENDORF:Vice Provost for Research, University of Washington
Speakers
Dr. Christopher BASSETT : Applied Physics Laboratory at the University of Washington
Marine Energy Research & Development for a Sustainable Future
Prof. Hiroshi KAWAI : Research Center for Inland Seas, Kobe University
Application of the Macroalgal Culture Collection for Blue Carbon technology
Simon GEERLOFS : Board Chair, Washington Maritime Blue, Pacific Northwest National Laboratory
An Introduction to Washington Maritime Blue And Research Partnerships to Support the Blue Economy
Rachel ARONSON : Quiet Sound Program Director, Washington Maritime Blue
Protecting Southern Resident Killer Whales from the Acoustic and Physical Impacts of Large Commercial Vessels

Venue:

The Wright Ballroom
Graduate Hotel Seattle
4507 Brooklyn Avenue N.E.
Seattle, WA 98105
United States

Language:

English

Host:

Institute for Promoting International Partnerships, Kobe University

Contact:

Institute for Promoting International Partnerships, Kobe University
Email: intl-relations@office.kobe-u. ac.jp


Remarks: To avoid spambots, we put a space before "ac.jp," so please delete the space when you email us.