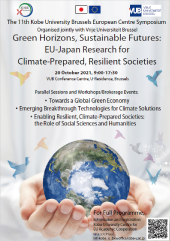 We are pleased to announce the Symposium 'Green Horizons, Sustainable Futures: EU and Japan Research for Climate-Prepared, Resilient Societies' will take place on 20 October 2021 at the Vrije Universiteit Brussel (VUB). This is the 11th Kobe University Brussels European Centre Symposium and jointly organised with VUB.
During the event, leading researchers from European and Japanese institutions will present some of the latest research and innovation carried out in Japan and Europe in economics, natural sciences, technology and SSH, to mitigate climate change and ensure the emergence of climate-aware, resilient societies.
Programme: Latest programme
Registration: Here
For enquiries, please contact the Kobe University Centre for EU Academic Collaboration at:
intl-kobe_u_bxl(a)office.kobe-u.ac.jp
---
Date:

Wednesday 20 October 2021

Venue:

U-Residence, Vrije Universiteit Brussel
Generaal Jacqueslaan 271, 1050 Brussels, Belgium

Programme:

【MORNING SESSIONS】

Opening Addresses (9:15-10:00)

Keynote Speech (10:00-10:30)

Morning Parallel Sessions (10:30-13:30)

- Session 1: Economics,

'Towards a global green economy'

- Session 2: Natural Sciences and Technology,

'Emerging breakthrough technologies for climate solutions'

- Session 3: Social Sciences and Humanities,

'Enabling resilient, climate-prepared societies: The role of SSH'

【JAPANESE NETWORKING LUNCH】(13:30-14:30)

【AFTERNOON SESSIONS】

Open Interactive Workshops and Brokerage Events (14:30-16:00)

- A: Economics
- B: Natural Sciences and Technology
- C: Social Sciences and Humanities

【CONCLUDING VIDEO ADDRESS】(16:00-16:15)

【CLOSING REMARKS】(16:15-16:30)

【NETWORKING RECEPTION AND DRINKS】(16:30-17:30)
---
Follow-up Workshop and Brokerage Event:

'New Opportunities for EU-Japan Research & Innovation Cooperation'
Date: Thursday 21 October 2021

Online event
On the next day of the symposium, a follow-up workshop and brokerage event will take place online. This 'hands-on' event will focus on new funding opportunities for international R&I cooperation in Europe and in Japan. It will include presentations of ongoing and future projects, and testimonials and lessons learned from EU and Japanese partners.
For further information, please visit
here
.