The Conferral Ceremony of Doctor Honoris Causa upon Prof. Jiří Drahoš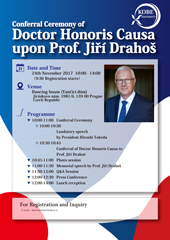 Kobe University is pursuing further academic collaboration between Japan and Europe through our Brussels European Centre and Kobe University Liaison Office in Kraków.
As a member of the Kobe University Advisory Board, Prof. Drahoš has shared his vast experience as the President of the Czech Academy of Sciences to strengthen international activities of Kobe University in Europe. Recognizing his significant help and contribution to Europe, Czech Republic and Kobe University, Kobe University will confer a Kobe University Doctor Honoris Causa upon Prof. Drahoš.
開催概要
Date and Time

24th November 2017 10:00 - 14:00
(registration starts 9:30)

Venue

Dancing house (Tančící dům, Prague)
Jiráskovo nám. 1981/6, 120 00 Prague

Programme

Conferral Ceremony
Photo session
Memorial speech by Prof. Jiří Drahoš
Q&A Session
Press Conference
Lunch reception

Inquiries

E-mail : kancelar (a) jiridrahos.cz

Copyright © Kobe University. All Rights Reserved.