Bilateral Kobe-Kiel Workshop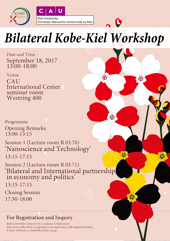 We are pleased to inform you that the workshop "Bilateral Kobe-Kiel Workshop" will be held on 18 September 2017 at Kiel University . This workshop is jointly organised with Kiel University, one of our strategic partner university in Germany. During this workshop prominent researchers from both universities will introduce the latest collaborations between Kobe University and Kiel University in Nanoscience and International Relationship. We look forward to your attendance.
Please find attached the actual programme. →the actual programme
Registration :Registration is now closed.
For enquiries, please contact the Kobe University Centre for EU Academic Collaboration at:
intl-relations(a)office.kobe-u.ac.jp
---
Date and Time:

Monday, September 18 2017 13:00 - 18:00



Place:

Christian-Albrechts-Universität zu Kiel
D-24098 Kiel
Germany,
International Center
seminar room
Westring 400
click here



Programme

Session 1 'Nanoscience and Technology'
13:15-17:15(Lecture room R 03.70)


Session 2 'Bilateral and International partnership in economy and politics'
13:15-17:15 (Lecture room R 03.71)

Copyright © Kobe University. All Rights Reserved.