"Workshop on Labour Mobility in the EU and Japan"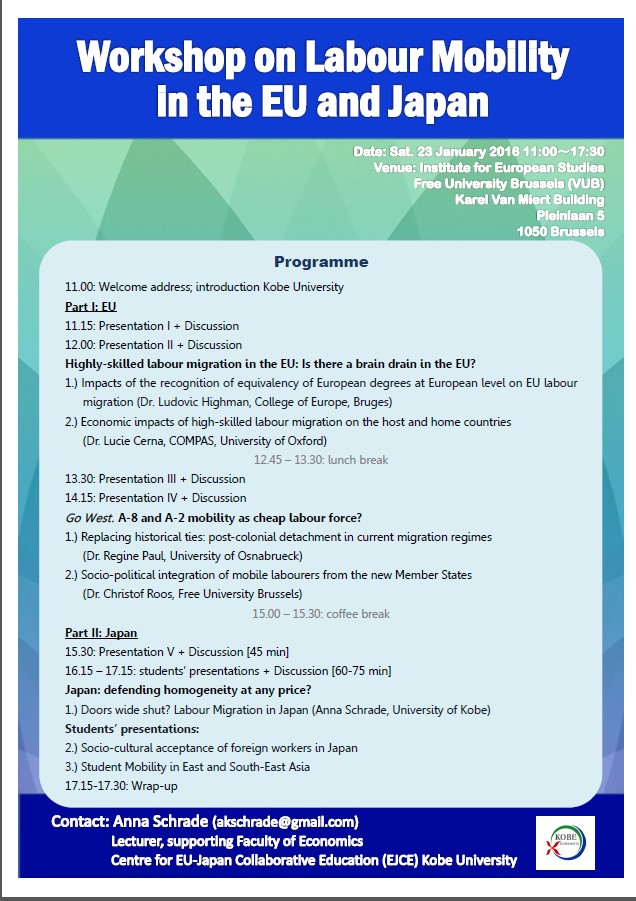 We are pleased to inform you of the event "Workshop on Labour Mobility in the EU and Japan" to be held on 23 January 2016 at Free University Brussels. This workshop brings together academics and practitioners from the field of Labour Migration (focusing on politics, law, economics, and sociology) as well as Education to discuss how labour migration of high-skilled Europeans can be managed, and to discuss what effects such a brain drain has on both the home countries, recipient countries and the EU as a whole.
Please find attached the latest programme. →the latest programme
For enquiry, please contact Anna Schrade (akschrade@gmail.com)
Lecturer, supporting Faculty of Economics
Centre for EU-Japan Collaborative Education (EJCE) Kobe University
---
Date:

Tuesday 23 January 2016 11:00 - 17:30

Venue:

Institute for European Studies
Karel Van Miert Building, Pleinlaan 5, 1050 Brussels, Belgium

Programme

11.00: Welcome address; introduction Kobe University



Part I: EU

11.15: Presentation I + Discussion
12.00: Presentation II + Discussion
Highly-skilled labour migration in the EU: Is there a brain drain in the EU?
1.) Impacts of the recognition of equivalency of European degrees at European level on EU labour migration (Dr. Ludovic Highman, College of Europe, Bruges)
2.) Economic impacts of high-skilled labour migration on the host and home countries (Dr. Lucie Cerna, COMPAS, University of Oxford)
13.30: Presentation III + Discussion
14.15: Presentation IV + Discussion
Go West. A-8 and A-2 mobility as cheap labour force?
1.) Replacing historical ties: post-colonial detachment in current migration regimes (Dr. Regine Paul, University of Osnabrueck)
2.) Socio-political integration of mobile labourers from the new Member States (Dr. Christof Roos, Free University Brussels)



Part II: Japan

15.30: Presentation V + Discussion [45 min]
16.15 – 17.15: students' presentations + Discussion [60-75 min]
Japan: defending homogeneity at any price?
1.) Doors wide shut? Labour Migration in Japan (Anna Schrade, University of Kobe)
Students'presentations:
2.) Socio-cultural acceptance of foreign workers in Japan
3.) Student Mobility in East and South-East Asia 17.15-17.30: Wrap-up



Related Links:

Copyright © Kobe University. All Rights Reserved.