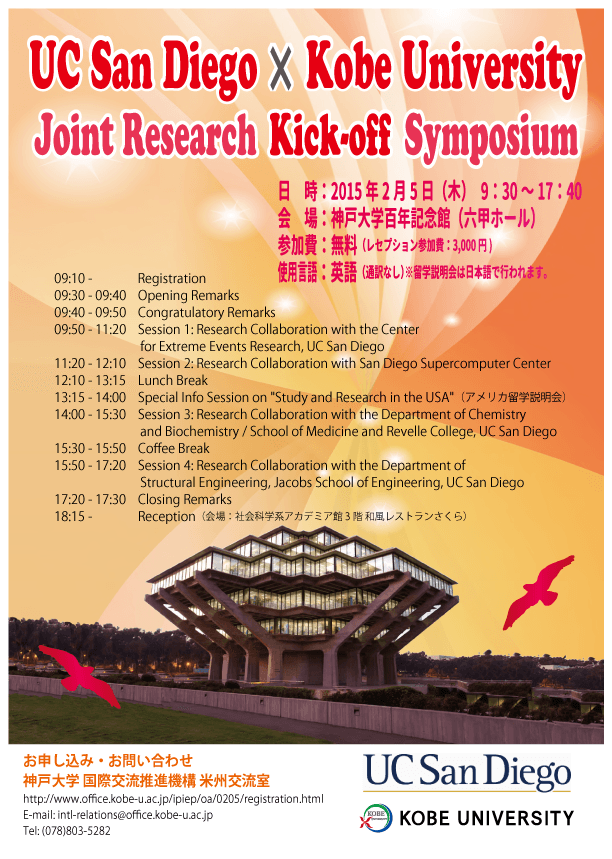 In March, 2014, the Kobe University Office of the Americas hosted the US-Japan Collaboration Fair 2014 in an attempt to connect research institutions and business enterprises in Japan, prominent universities in North America, and Kobe University. Since the Fair, Kobe University has designated participating universities in North America as Collaboration Enhancement Universities,and has been focusing on building a collaborative foundation between Japanese and US industry and academia.
As part of this on going effort, Kobe University and the University of California, SanDiego (UC San Diego) will start collaborative research related to inter-university academic exchange. To commemorate this collaboration, Kobe University will be hosting the UC SanDiego x Kobe University Joint Research Kick-off Symposium, with the following four research themes: 1) disaster prevention/disaster risk reduction,2) supercomputers, 3) bio-signals, and 4) architecture/civil engineering.
Every is a cutting edge field and growing research area. Centering on these fields, Kobe University will further pursue research and educational collaboration with UCSan Diego. We welcome active participation.
Please find attached the actual programme. →the actual programme
---
Symposium Details
Date/Time:

Thursday, February 5, 2015, 09:30~17:40 (Reception: 18:15p.m.~)

Place:

Kobe University Centennial Hall [(Rokkodai 2 Campus, No. 37]
(Reception: Restaurant Sakura. 3rd floor,Academia Hall for Social Sciences.[Rokkodai 1 Campus, No. 8])

Participation Fee:

Free of charge (Reception participation fee: JPY 3,000)

Language:

English (No interpretation)
Note) Study Abroad Information Session will be conducted in Japanese.

Registration:

Registration is now closed.

Contact:

International Affairs Planning Division
International Affairs Department
Kobe University
TEL: +81-78-803-5282
FAX: +81-78-803-5049
Email: intl-relations@office.kobe-u. ac.jp/
Note) A blank space is added in front of ac.jp to avoid spam bots from collecting emails. Please remove it when sending email.