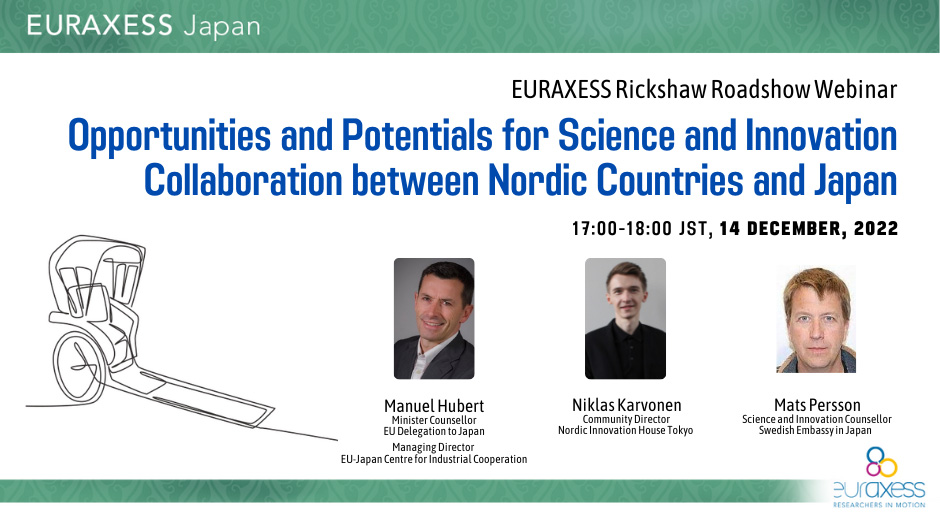 The EURAXESS Rickshaw Roadshow Webinar showcases flourishing cooperative partnerships between Japan and the EU, featuring Japanese regions.
This webinar will introduce opportunities and potentials for science and innovation collaborations that go beyond the boundaries of nations as well as academia and industry. We will focus on collaborative frameworks between the Nordic countries and Japan for research, education, and innovation creation.
The Nordic countries are renowned for world-leading research and well-developed startup ecosystems. Behind their strength, there is social infrastructure such as generous social-welfare system that covers a wide range of educational and medical expenses, recurrent education that supports flexible career paths, and equal human relations regardless of age or gender. Also, the governments have been making efforts to realize the vision of "becoming the most sustainable and integrated region in the world by 2030." Under this initiative, the Nordic countries and Japan are actively collaborating on research, education and innovation creation.
Highlighting the activities of Nordic Innovation House Tokyo (NIH Tokyo), which supports collaboration among innovative startups and entrepreneurs in the both regions, and Sweden-Japan bilateral cooperative initiatives, we will find out more about opportunities as well as challenges that lie ahead for Nordic-Japan science and innovation collaborations.
This webinar aims to provide researchers, businesses, research institutions as well as the public with new opportunities and inspiration for EU-Japan collaboration.
Details
EURAXESS Rickshaw Roadshow Webinar

Theme:

Opportunities and Potentials for Science and Innovation Collaboration between Nordic Countries and Japan

Date & Duration:

December 14 (Wed) 2022, 17:00-18:00 JST (09:00-10:00 CET)

Language:

English

Registration:

 Free of charge, REGISTER HERE




Agenda

TIME
CONTENTS

December 14 (Wed)
17:00-17:05 JST
09:00-09:05 CET
Opening Speech
 Judit Erika Magyar
 Country Representative
 EURAXESS Japan
17:05-17:15 JST
09:05-09:15 CET
Keynote Presentation
 Manuel Hubert
 Minister Counsellor
 EU Delegation to Japan
 Managing Director
 EU-Japan Centre for Industrial Cooperation

17:15-17:30 JST
09:15-09:30 CET
Presentation 1

 Nordic Innovation House and Nordic startup and innovation  landscape

 Niklas Karvonen
 Community Director
 Nordic Innovation House Tokyo


17:30-17:45 JST
09:30-09:45 CET
Presentation 2
 Sweden-Japan science and innovation collaboration

 Mats Persson
 Science and Innovation Counsellor
 Swedish Embassy in Japan
17:45-17:58 JST
09:45-09:58 CET
Q&A
17:58-18:00 JST
09:58-10:00 CET
Closing Speech
 Tatsuya Maisawa
 Country Representative
 EURAXESS Japan