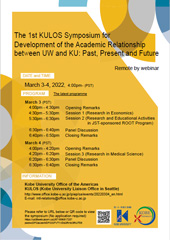 Click on the image to view
the event poster
"The 1st KULOS Symposium for Development of the Academic Relationship between UW and KU: Past, Present and Future" will be held online on Thursday, March 3 and Friday, March 4, 2022 (PST).
Kobe University established KULOS (Kobe University Liaison Office in Seattle) in April 2020. Located in the Hyogo Business and Cultural Center in downtown Seattle, it is our first liaison office on the US mainland. KULOS will strive to contribute towards the globalization of Kobe University's research and education by providing Kobe University faculty members and scholars with a venue for international symposia and workshops covering a diverse range of academic fields, in addition to offering global educational activities for students at various levels.
This symposium provides an ideal opportunity to present new findings and exchange ideas in the following areas; Economics, Medical Science and the ROOT program, a research-oriented educational program that aims to foster globally-minded and highly determined young scientists. The speakers are from Kobe University and the University of Washington.
The latest programme can be found →here
---
General Information

Date and time:

Thursday 3 March 2022 4:00PM-6:50PM(PST)

4:00PM~4:30PM Opening Remarks
4:30PM~5:30PM Session 1 Research in Economics
5:30PM~6:30PM Session 2 Research and Educational Activities of the JST-sponsored ROOT Program
6:30PM~6:40PM Panel Discussion
6:40PM~6:50PM Closing Remarks

Friday 4 March 2022 4:00PM-6:40PM(PST)

4:00PM~4:20PM Opening Remarks
4:20PM~6:20PM Session 3 Research in Medical Science
6:20PM~6:30PM Panel Discussion
6:30PM~6:40PM Closing Remarks

Medium:

Language:

English

Host:

Institute for Promoting International Partnerships, Kobe University

Contact:

International Affairs Planning Division, Kobe University
TEL: +81-78-803-5282
Email: intl-relations@office.kobe-u. ac.jp
Remarks: To avoid spambots, we have inserted a space before "ac.jp" Please delete this space when you email us.