Participation in PhD Workshop China 2019 (Beijing)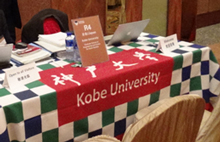 Kobe University will participate in the PhD Workshop China 2019. The event will take place from November 23 to 24 in Beijing. This workshop is an opportunity for representatives from overseas institutions to hold interviews for students from major Chinese universities who wish to obtain their doctoral degree overseas.
During the workshop Kobe University representatives will be available to discuss prospective students' research themes, and provide them with information regarding entrance examinations, necessary skills and qualifications. This is a valuable opportunity for information exchange, and we look forward to seeing a growing number of students interested in applying to Kobe University and studying abroad.
See below for details.
---
Overview
Date:

November 23-24, 2019 (Saturday-Sunday)

Venue:

Shangri-La Hotel Beijing (Beijing)

Schedule:Click here to download the schedule

Event information for Chinese PhD candidates (Chinese language)

Copyright © Kobe University. All Rights Reserved.