The 9th Kobe University Brussels European Centre Symposium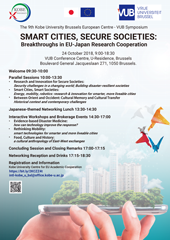 We are pleased to inform you of the symposium " Smart Cities, Secure Societies: Breakthroughs in EU and Japan Research Cooperation" to be held on 24 October 2018 at Vrije Universiteit Brussel (VUB). This is the 9th Kobe University Brussels European Centre Symposium and this year's symposium is jointly organised with VUB.
During the event, the latest collaboration between Japan and the EU in disaster resilience, energy, mobility and cultural identity will be introduced by the prominent researchers from Japanese and the EU institutions.
Please find attached Programme and Presentation Data
Please find attached CV&Abstract
Registration: Closed
For enquiries, please contact the Kobe University Centre for EU Academic Collaboration at:
intl-kobe_u_bxl(a)office.kobe-u.ac.jp
---
Date:

Wednesday 24 October 2018 9:15 - 18:30
Registration to start at 8:45

Place:

Vrije Universiteit Brussel
U-Residence(Generaal Jacqueslaan 271, 1050 Brussels, Belgium)

Programme

【MORNING SESSIONS】(9:15-13:30)

OPENING SESSION (9:15-10:00)

PARALLEL SESSION 1: RESEARCH AND INNOVATION FOR SECURE SOCIETIES

Theme 1 "Security Challenges in a Changing World" (10:00-11:35)
Theme 2 "Disaster-Resilient Societies" (11:55-13:30)

PARALLEL SESSION 2: SMART CITIES, SMART SOCIETIES

Theme 1 "Smart Cities: Energy and Mobility" (10:00-11:35)
Theme 2 "Smart Cities: Citizens, Users and Life" (11:55-13:30)

PARALLEL SESSION 3: BETWEEN ORIENT AND OCCIDENT: CULTURAL MEMORY & CULTURAL TRANSFER

Theme 1 "Historical Context" (10:00-11:35)
Theme 2 "Contemporary Challenges" (11:55-13:30)

【AFTERNOON SESSIONS】(14:30-18:30)

OPEN INTERACTIVE WORKSHOP/BROKERAGE EVENT (14:30-17:00)

A: Evidence-based Disaster Medicine: how can technology improve the response?
B: Rethinking Mobility, Reinventing Cityspaces: Smart Technologies for Smarter and More Liveable Cities
C: Food, Culture and History: A Cultural/Culinary Anthropology of East-West Exchanges

Copyright © Kobe University. All Rights Reserved.