The 8th Kobe University Brussels European Centre Symposium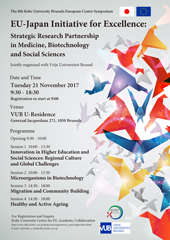 We are pleased to inform you of the symposium " EU-Japan Initiative for Excellence- Strategic Research Partnership in Medicine, Biotechnology and Social Sciences-" to be held on 21 November 2017 at Vrije Universiteit Brussel (VUB). This is the 8th Kobe University Brussels European Centre Symposium and this year's symposium is jointly organised with VUB. During the event, latest collaboration between Japan and EU in Higher Education, Biotechnology, Migration and Ageing will be introduced by prominent researchers from Japanese and EU institutions.
Please find attached the Actual Programme→here
Registration is now closed
For enquiries, please contact the Kobe University Centre for EU Academic Collaboration at:
intl-kobe_u_bxl(a)office.kobe-u.ac.jp
---
Date:

Tuesday 21 November 2017 9:30 - 18:30
Registration to start at 9:00

Place:

Vrije Universiteit Brussel
U-Residence(Generaal Jacqueslaan 271, 1050 Brussels, Belgium)

Programme

Session I 10:00 - 13:30

Innovation in Higher Education and Social Sciences: Regional Culture and Global Challenges

Session II 10:00 - 13:30

Microorganisms in Biotechnology

Session III 14:30 - 18:00

Migration and Community Building

Session IV 14:30 - 18:00

Healthy and Active Ageing

Copyright © Kobe University. All Rights Reserved.