Joint symposium commemorating the establishment of Kobe University Liaison office in Kraków
Joint symposium commemorating the establishment of Kobe University Liaison office in Kraków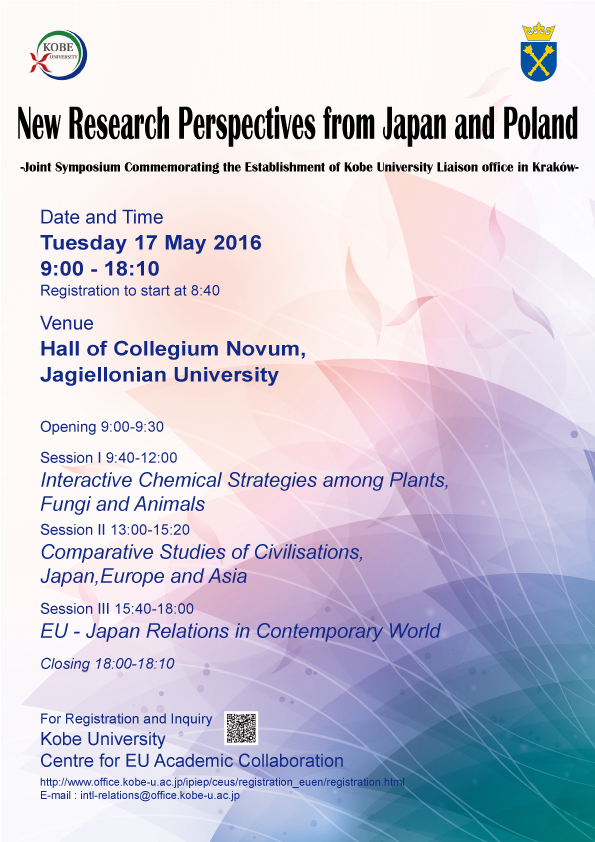 We are pleased to inform you that the symposium "New Research Perspectives from Japan and Poland" will be held on 17 May 2016 at Jagiellonian University. This symposium is being held to commemorate the establishment of the Kobe University Liaison Office in Kraków. It is jointly organised with Jagiellonian University, where our new liaison office is located. During this symposium, prominent researchers from both universities will introduce the latest collaborations between Kobe University and Jagiellonian University in Biology, Comparative Studies of Civilisations, and EU-Japan Relations. We look forward to your attendance.
Please find attached the actual programme. →the actual programme
Registration is now closed.
For enquiries, please contact the Kobe University Centre for EU Academic Collaboration at:
intl-relations(a)office.kobe-u.ac.jp
---
Date:

Tuesday 17 May 2016 9:00 - 18:10

Place:

Hall of Collegium Novum, Jagiellonian University

Programme

Session I 9:40-12:00

Interactive Chemical Strategies among Plants, Fungi and Animals
※Session title has been changed.

Session II 13:00-15:20

Comparative Studies of Civilisations, Japan, Europe and Asia

Session III 15:40-18:00

EU - Japan Relations in Contemporary World

Copyright © Kobe University. All Rights Reserved.