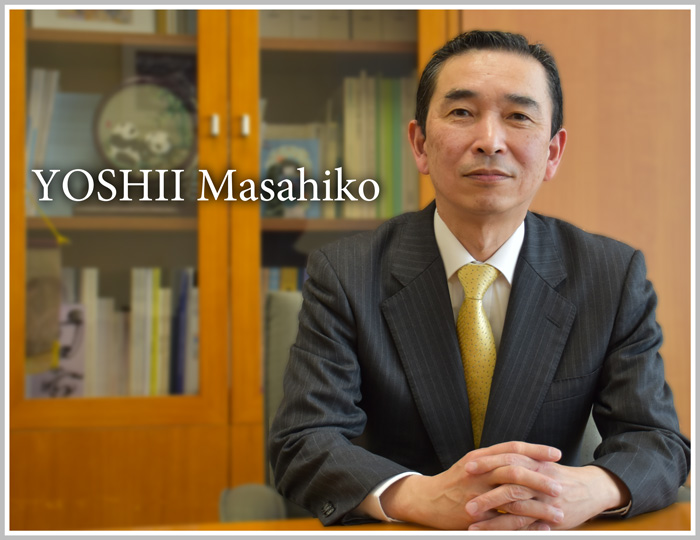 Kobe University has a long history and proud tradition as an important education and research institution established in the cosmopolitan city of Kobe. Ever since it was opened to the world, Kobe City has been daily witness to a cross-border exchange of people and goods. These city traditions, combined with the background of the accelerating borderless movement of people, goods, money and services in today's society, make Kobe the ideal place to foster globally-minded individuals. Taking advantage of our location in this cosmopolitan and open-minded city, Kobe University, with the school philosophy of an integration of theory and practice, strives to achieve global excellence as a core base for education and research and to become a multidisciplinary research-intensive university. The University is cementing its global presence by upholding the policies of "education to promote international awareness" and "establishment of a collaboration base for academic research" enshrined in our Education and Research Charters.
Based on collaboration in key regions of the EU, Asia and the United States, Kobe University is developing mutual exchange with universities abroad, and acting as a core academic base to connect students and researchers from, for example, Europe, China and ASEAN countries within our campus. Using its port city location, the University also aims to play a leading role as an interface between overseas institutions and corporations and Kobe-based businesses, public and private organizations, with Kobe University serving as a hub campus to realize such connections. To achieve this, we seek to develop the global awareness of our students, faculty and administrative staff.
In order to succeed in these aims, the Institute for Promoting International Partnerships, in cooperation with the Institute for Promotion of Higher Education and the Institute of Promoting Academic Research Programs, is enhancing the internationalization of Kobe University's education and research. Within the Institute, the Centre for EU Academic Collaboration, the Center for Asian Academic Collaboration and the Office of the Americas are promoting multidisciplinary international academic exchange in their respective core regions. The Center for International Education has also been established within the Institute. As well as developing education programs with our University's characteristic global outlook, this Center is also responsible for educating international students. Through the organic combinations and support of these organizations, the Institute will continue to contribute to the development of Kobe University as an outstanding multidisciplinary research-intensive university and an international base for education and research.
Masahiko YOSHII
Executive Vice President
Director, Institute for Promoting International Partnerships