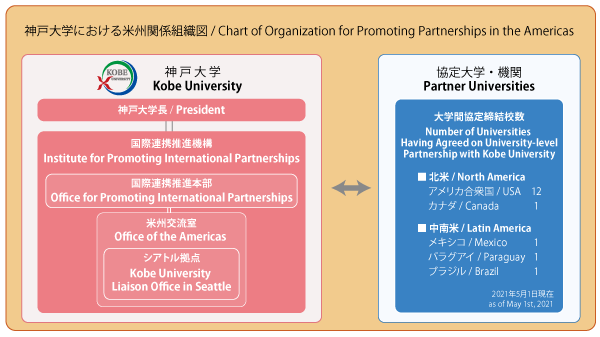 The Office of the Americas was established under the auspices of Kobe University's Institute for Promoting International Partnerships in February 2014 with the aim of strengthening cooperation between the University and the Americas. It is the predecessor to the International Exchange Office that was set up in 2013.
The Office is designed to function as a "hub" for the ever-developing international network of academic exchange between Kobe University and its counterparts in the Americas, so as to realize Kobe University's vision—"Toward an outstanding research university excelling in advanced and integrated research in the humanities and sciences."
While carrying out the Office's activities, we were searching for a suitable location for a base from which to better promote our efforts in the region. This resulted in the Kobe University Honolulu Office being located at the Japan-America Institute of Management Science (JAIMS) from July 2016 to March 2020. Since its establishment, we have developed joint research centered on collaborations with researchers in Hawaii, North America, and the Pacific Rim. These efforts have also included symposiums sponsored by the Institute for Promoting International Partnerships and workshops given by our faculty members at the Honolulu base.
We launched Kobe University Liaison Office in Seattle (KULOS) in April 2020 with assistance from the Hyogo Prefectural Government and Hyogo International Association. We chose Seattle due to its prime location for forging stronger connections with universities and research institutions in the Americas. To firmly establish this new base, we will continue to expand our symposium and workshop-related activities.
The Americas is an area where Kobe University is actively engaged in international exchange in terms of research and education. Based on the philosophy of educational research, Kobe University aims to expand exchange with the Americas in the fields of humanities, social sciences, natural sciences, and life sciences.
---
---
Kobe University Promotional Video
Video(Click to Kobe University Web Site)
---