About Us
KUBEC was established based upon these principles, with the aim of promoting international collaboration between Kobe University and universities and research institutes in Europe in the fields of Humanities, Social Science, Natural Sciences and Bio-Medical Sciences.
In July 2015, KUBEC was relocated to the International Building of Vrije Universiteit Brussel, a partner of Kobe University. Here it continues to play the role of a key institute for international collaboration in education and research between Japan and Europe by providing valuable opportunities for international exchange in Europe.
---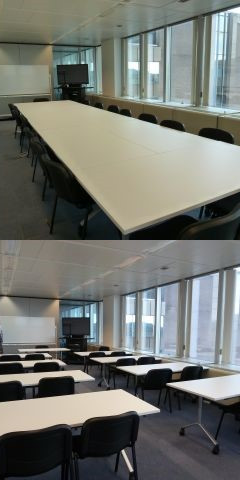 Roles
1) Collect and disseminate information about education and research of Kobe University
2) Support academic exchange with universitie and research institutes in Europe
3) Establish networks of international alumni and researchers
4) Develop cooperation with industries and associations in Europe
5) Support in European Fund Application
Activities
1) International symposium, workshops and seminars
2) Liaison with universities and institutes in Europe
Meeting Room
Kobe University Brussels European Centre has a meeting room for seminars and workshops. (max. 25 persons)
Open:9:00-17:00 (Mon. - Fri.)
Closed: Sat., Sun., Japanese holidays
Equipment: 9 meeting tables, 18 chairs, 1 display (50'), 1 white board,Long Distance Interactive Learning System
Support in European Fund Application
KUBEC supports Kobe University Reserachers to participate in European Fund Application.
Please clik here(for internal use) for details.
Mailing List and KUBEC Privacy Policy
KUBEC disseminates its activites through a mailing list service. You can register on the Mailing List Registration Form to subscirbe.
Registered your personal data is managed properly in accordance with KUBEC Privacy Policy.

Copyright © Kobe University. All Rights Reserved.