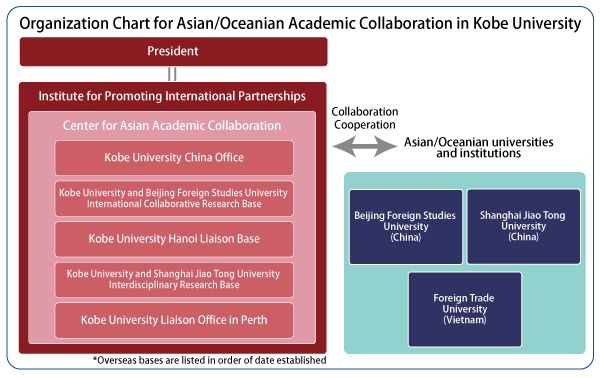 Kobe University is proactively conducting international exchange activities among researchers and students through close collaboration with Asian universities and institutions. At present, more than 80 percent of the international students enrolled at Kobe University are from Asia. Approximately 50 percent of partner universities that have signed an inter-university academic agreement with Kobe University are also from Asia.
We are involved in multiple collaborative research projects with Asian universities and institutions. Examples include the 'Program for Careers in Risk Management Experts in East Asia' (Campus Asia Program) initiated by the Ministry of Education, Culture, Sports, Science and Technology-Japan (MEXT) in FY2011. We are also part of the 'Re-Inventing Japan Project' (Support for the formation of Collaborative Programs with ASEAN Universities) initiated by MEXT in FY2012. Both projects offer cooperative education programs and form a consortium with institutions in China, Korea, and ASEAN member states, aiming to equip students with the skills to play important roles in the international arena.
Countries and regions in Asia are experiencing rapid economic growth, and Asia will continue to grow in importance. We established the Center for Asian Academic Collaboration in July 2013 to promote strategic and sophisticated international exchange, mutually enhance personnel training and mobility, and construct a strong relationship with other countries and regions within Asia.
The development of education and research activities has promoted organizational collaboration and cooperation with leading universities in Asia. Under these circumstances, we also needed bases that can integrate and promote activities systematically in Asia.
Before establishing the Center, we began to establish offices to act as bases for close exchange with Asian countries. We established the Kobe University China Office in Beijing, China, in January 2008. On January 1, 2015 we opened the Kobe University and Beijing Foreign Studies University International Collaborative Research Base, and on April 13, 2015 we established the Kobe University Hanoi Liaison Base within the Foreign Trade University in Hanoi. Furthermore, we established the Kobe University and Shanghai Jiao Tong University Interdisciplinary Research Base on June 23, 2018. We are using these offices to promote education and research through international collaboration with universities and research institutions in Asia.
In addition to Asia, we are going to focus on the Oceanian region from now on. Kobe University, with the cooperation of Hyogo International Association, established "Kobe University Liaison Office in Perth" on April 1, 2020. Located within Perth's Hyogo Prefectural Government Cultural Centre, it serves as a base for education and research exchange in Australia.
The Center for Asian Academic Collaboration has provided support and implementation for a wide range of initiatives related to exchange, research and education with Asian/Oceanian countries and regions. While functioning as Kobe University's academic hub in Asia/Oceania, we aim to create a free and creative forum for the next generation of researchers and young people who will be responsible for Asia's future.
・Organization Chart of the Institute of Promoting International Exchange Programs