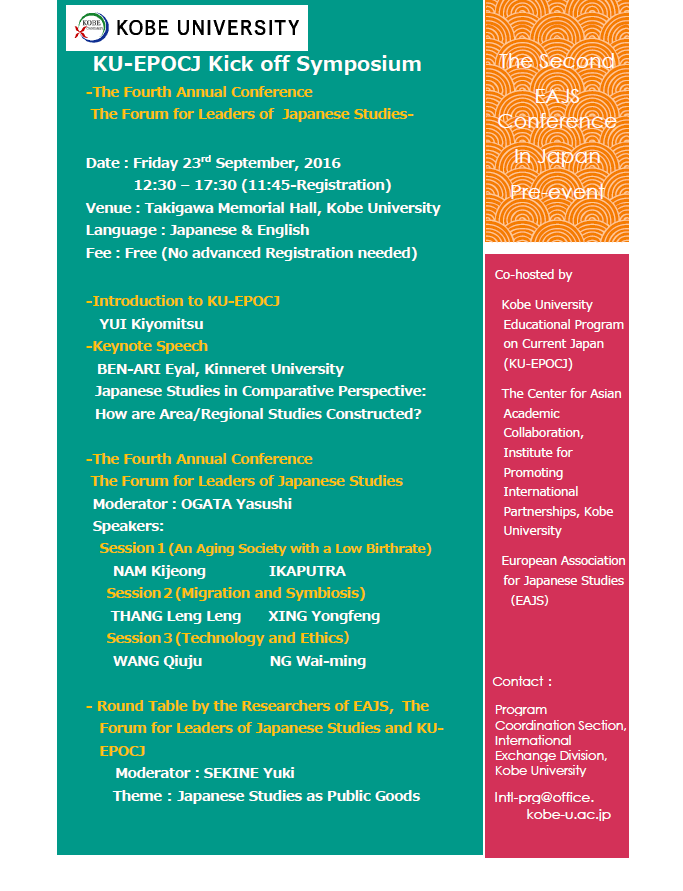 [Click the image for more details]
In an era of increasing collaboration between Asian universities, with many new developments in education and research, Kobe University's Center for Asian Academic Collaboration is proud to host The Fourth Annual Conference: The Forum for Leaders of Japanese Studies.
The theme of this year's forum is "Japanese Studies as Public Goods". Six celebrated scholars of Japanese Studies from major Asian universities will explore the meaning and role of Japanese Studies. Also, we run this forum in collaboration with Kobe University Educational Program on Current Japan and European Association for Japanese Studies, which is a new initiative to us. We will organize active discussion, inviting celebrated scholars of Japanese Studies also from other countries outside Asia.
We look forward to your participation in the Forum.
---
General Information

Date:

Friday 23 Sep. 2016, 12:30-17:30
*Free entry.


Venue:

Takigawa Memorial Hall, Kobe University


Title:

"Japanese Studies as Public Goods"


Official Language:

Japanese and English


Co-host:

Center for Asian Academic Collaboration, Institute of Promoting International Exchange Programs, Kobe University
Kobe University Educational Program on Current Japan (KU-EPOCJ)
European Association for Japanese Studies(EAJS)


Contact Information:

International Affairs Planning Division, International Affairs Department, Kobe University
TEL: +81-78-803-5043
Email: intl-relations@office.kobe-u. ac.jp
Remarks: To avoid spambots, we put a space before "ac.jp," so please delete the space when you email us.


Related Links: